GlamPalm Ceramic Hair Straightener (GP501BL) - 38mm
INFO
- Brand: Glampalm
- Product Code: GlamPalm Ceramic Hair Straightener (GP501BL) - 38mm
- Availability: In Stock
MYR950.00
MYR800.00
Ex Tax: MYR800.00
Experience straightener, sleeker hair with the GlamPalm GP501 Straight Ceramic Hair Straightener. Featuring optimum heat-plate size for straight styling, slim head design, lighter weight, and ergonomically designed body stopped supporting comfortable grip.
Features
25% lighter to minimize wrist fatigue.
38mm plate width.
Body stopper, preventing slipping.
Convenient styling for long hair.
Optimum thin head for straightr styling.
Optimum wider heat plate for straight styling.
Peace of Mind, guaranteed genuine styler.
Scientifically proven to minimize the damage to the hair professional hair iron Glampalm. Straight, wave and any style can be easily styling.
Anion emission with a special ceramic coating plates.
Rapid initial temperature rise and thermal resilience
Without being torn out the hair can make the styling by the cushion features
LED temperature display device is adjustable in 11 steps.
Never twist-free 3D swivel pivot Code
Auto power off when not using more than 30 minutes.
Pre-bolts are available anywhere in the world.
Brand : GlamPalm Professional
Rated Voltage : 100-240V
Rated Frequency : 50-60Hz
Power Consumption : 50W
Length of cord : 3m
Package Contents
GlamPalm Straight Ceramic Hair Straightener (GP501BL)
Luxury heatproof clutch bag
User Instruction
Size
Hair Straightener : 37mm (W) x 260mm (L) x 38mm (H)
Heat Plate : 38mm x 90mm
Weight
300g
Made
Korea
Warranty
1 year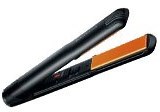 Special ceramic coating for softer and silkier hair
The heat plate, treated with an advanced ceramic coating, radiates massive far infrared rays & anions that help to make hair softer and silkier than ever for a professional salon treatment effect. In addition, the efficient heat transfer properties of the ceramic coating let you create amazing hairstyles even at low heat plate temperatures for reduced hair damage and improved safety. Easy sliding allows better styling with no excessive strain on the hair roots, preventing hair from snagging or being pulled out by the roots.
Minimal hair damage thanks to narrower gap between heat plates
Equipped with unique heat plate cushioning and tilting functions, which serve to narrow the gap between the heat plages, our hairstylers disperse pressure to the hair. This minimizes hair damage and pulling of the hair. Furthermore, the cushioning and tilt features provide added flexibility for the best and longest-lasting styling results by ensuring an even transfer of heat.
In addition, our stylers require less grip pressure than existing products, thereby reducing wrist pain and contributing to better styling results.
Speedy heating and heat recovery to maintain the desired temperature level
Ceramic heaters and a digital MICOM heat control system decrease initial heating time. The "twin control system" controls the heaters individually to maintain temperature at the designated level for efficient hairstyling. In particular, by ensuring no temperature difference between the heat plates, ourstylers guarantee optimal hairstyling performance.
Multi-styling versatility
The optimally-sized heat plate allows users to create a multitude of hair styles.
The rounded body is ideal for freely sculpting all hair styles including straight, curly or wavy.
Furthemore. our product's adjustable temperature settings enable users set the appropriate level of heat required for the desired hairstyle.
Ergonomic body design with minimalist aesthetics
The outstanding gnp and ergonomic design ensure greater user convenience and minimal wrist fatigue from long-term use. Along with user-friendly design features including optimized product thickness and panel width, and the logical placement of the temperature control button, our products' streamlined body styling achieves as minimalist aesthetic that eliminates unnecessary parts, while its sleek simple design conveys quality and elegance.